Fancy something dark and smooth to enjoy whilst watching the rugby? Our Scrum-Half Stout is available during February and March at 4.4% ABV.
Our November Porter got quite a following so we are now brewing it regularly as Plymouth Porter at 5.0% ABV. 5p per pint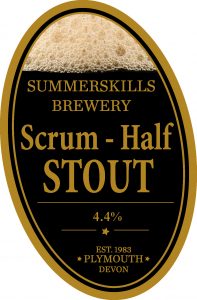 sold is donated to the Chestnut Appeal for Prostate Cancer.
We relaunched our November Porter in the Nowhere Inn  and are donating 10p per pint sold to the Chestnut Appeal for Prostate Cancer.
Porter Ale has its roots going back to the 18th Century when it was popular with street and river Porters in London. Our recipe uses a combination of crystal, chocolate and black malt along with roasted barley to create its dark colour and distinctive full, rich flavour.
Our Christmas beers are ready to go! We have Turkey's Delight at 4.6% ABV and Christmouse at 5.1% ABV.
Turkey's Delight is a dark amber moreish winter ale. Plenty of fruit on the aroma, roast malt flavours and a bittersweet finish.
Christmouse is red/brown with a toffee aroma, roast malt and spice flavour with a smooth finish.
Our seasonal beers have joined our range all year round and are Devon Frost at 4.5%, Whistle Belly Vengeance at 4.7% and Indiana's Bones at 5.6%.
Premium golden bitter.  Light and crisp.
A dark ruby beer full of dark malt character, aromas of rich dark malt and hops, the mouth is dominated with hops, dark malt and liquorice.
A rich dark winter warmer, soft chocolate in the mouth with characteristic Goldings aroma.
We have teamed up with Owens Coffee to produce a vegan friendly stout infused with organic cold brew coffee. The combination delivers a rich, deep flavour with a gentle coffee aftertaste that lingers on the palate. You can enjoy it chilled from the bottle as a long drink but it also adds a new dimension to cocktails and traditional recipies like chocolate cake, breads, stews and hot pots.
Look out for it in the Fisherman's Arms on the Barbican, Plymouth and Roots and Vines in Tavistock. 
Guzzale is back with a new pump clip. It is featured in the JD Wetherspoon national guest ale line up from September through to November. You may also find some in our other local outlets. Tasting notes are: Golden amber with toffee, caramel and fruit aromas, sweet malts, caramel, toffee and orange flavours with a dry and earthy hop finish.